Virginia Motorcycle Parking Laws
In most cases the samelaws that regulate where cars or trucks can park apply to motorcycles as well. You can't leave your motorcycle attended or unattended:
In front of a private driveway
Within 15 feet of a fire hydrant or the entrance to a fire station
Within 15 feet of the entrance to an emergency medical services facility
Within 20 feet from intersection curb lines or, if there aren't any lines, within 15 feet of the intersection or highways
On arailroad track
There are a couple of noteworthy items inVirginia Code 46.2-1220:
No ordinance adopted under the provisions of this section shall prohibit the parking of two motorcycles in single parking spaces designated, marked, and sized for four-wheel vehicles
Counties, cities and towns can pass ordinances that allow three or more motorcycles to park in a normal-sized parking space
Some counties in Virginia do mention motorcycles in parking ordinances. For example, in Henrico County the ordinance relating toangle parking,"shall not apply to motorcycles when parked with the rear wheel next to the curb or edge of roadway in a manner that does not obstruct moving traffic."
You may want to do a search for local parking ordinances in your area if you think you've been cited unfairly.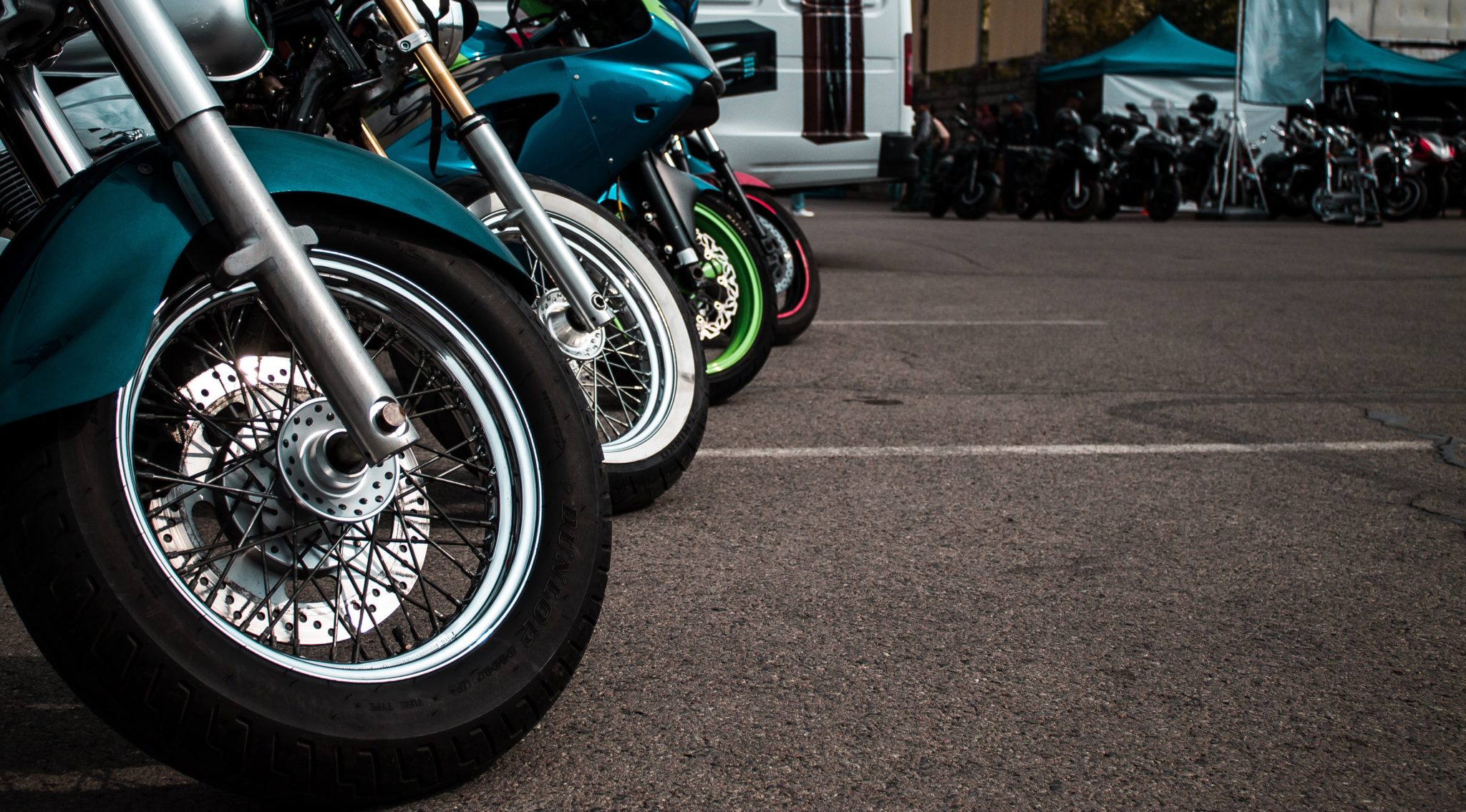 North Carolina Motorcycle Parking Laws
As in Virginia, the North Carolina parking laws that govern cars, truck, SUVs and any other registered motor vehicle also apply to motorcycles. Some of thedistances required are slightly different, but it's generally the same idea. There's no parking or leaving a vehicle unattended:
Upon a highway, in front of a private driveway or within 15 feet in either direction of a fire hydrant or the entrance to a fire station
Within 25 feet from the intersection curb lines, or if none, then within 15 feet of the intersection of property lines at an intersection of highways
The North Carolina state parking statute explicitly gives local authorities authorization to increase or decrease the fire hydrant parking distance rule. Governing bodies of any NC cities can alsomodify or further regulate the stopping, standing or parking hours for parking areas of:
Hospitals
Shopping centers
Apartment houses
Condominium complexes
Commercial office complexes
Any other privately owned public vehicular area
North Carolina also has additional parking rules inNC § 20-161:
No parking on the "main-traveled portion of any highway or highway bridge with the speed limit posted less than 45 miles per hour" unless the vehicle is broken down and you are forced to temporarily leave it to get assistance
If you do have to leave your vehicle in the shoulder it must be clearly visible from a distance of 200 feet by drivers traveling in either direction, and it cannot be impeding traffic
If you leave your vehicle on the side of a highway for more than 24 hours – including in rest stops – law enforcement will "arrange" for the transportation and safe storage of the vehicle (it will be towed to an impound lot)
Some North Carolina cities and counties have specific ordinances pertaining to motorcycle parking, but they're generally mundane. In Raleigh, for example,Sec. 11-2189 says:
No more than one motorcycle can be parked in a single motorcycle-only parking space
A motorcycle is any motorized vehicle with no more than three wheels
Multiple motorcycles can use a single paid meter in North Carolina, as long as they fit safely within the space meant for a four-wheel vehicle and the meter is paid.
South Carolina Motorcycle Parking Laws
South Carolina has amuch longer and more detailed parking prohibitions list. Similar to North Carolina and Virginia, their statute prohibits any vehicles from being parked, regardless of whether they're occupied:
In front of a public or private driveway
Within 15 feet of a fire hydrant
Within 20 feet of a crosswalk at an intersection
On any controlled-access highway
Within 30 feet upon the approach to any flashing signal, stop sign, yield sign or traffic-control signal located at the side of a roadway
Within 20 feet of the driveway entrance to any fire station and on the side of a street opposite to any fire station within 75 feet of the entrance when properly signposted
Stopping in these locations is usually permitted "momentarily to pick up or discharge passengers."
In addition to those traditional prohibitions on parking, South Carolina explicitly lists:
On the roadway side of any vehicle stopped or parked at the edge or curb of a street (no double parking)
On a sidewalk
Within an intersection
On a crosswalk
Between a safety zone and the adjacent curb or within 30 feet of points on the curb immediately opposite the ends of a safety zone, unless a different length is indicated by signs or markings
Alongside or opposite any street excavation or obstruction when stopping, standing or parking would obstruct traffic
Upon any bridge or other elevated structure upon a highway or within a highway tunnel
On any railroad tracks
In the area between roadways of a divided highway, including crossovers
At any place where official traffic-control devices prohibit stopping
Within fifty feet of the nearest rail of a railroad crossing
Have You Been Injured in a Motorcycle Accident?
Parking lots are common places for auto accidents of all types to occur. Car and truck drivers are frequently inattentive or don't adequately check their blind spots when backing out of their parking spot.
Riders can be just as easily injured while parking their motorcycle or leaving a parking lot as they can on the road.
If you or a loved one have been injured in a motorcycle parking lot accident or any other type ofmotorcycle accident, the motorcycle injury attorneys at theMotorcycle Law Group are ready to help. Call us at(855) 529-7433 for afree case evaluation.