Not everymotorcycle accident is caused by another driver's error or a rider's own mistake. Some accidents happen due to mechanical defects in a bike, dangerous road conditions or improperly performed maintenance.
The responsible party may not be immediately obvious, but that doesn't change the fact that riders who suffer serious injuries in these accidents still have expensive medical bills to pay. In cases like these, the most common negligent parties are:
The manufacturer of the component that failed
The mechanic who performed work or service on the component that failed
The city or municipality that didn't correct known roadway defects
What you should do after a motorcycle crash you suspect to be related to mechanical failure is pretty much the same thing you would normally do. Document the scene, see a doctor andcall a motorcycle lawyer. You will want to preserve your damaged bike so it can be inspected and the failure can be identified for evidentiary purposes. Keep in mind that if you allow the motorcycle to be repaired you will most likely lose your ability to claim damages due to a mechanical defect.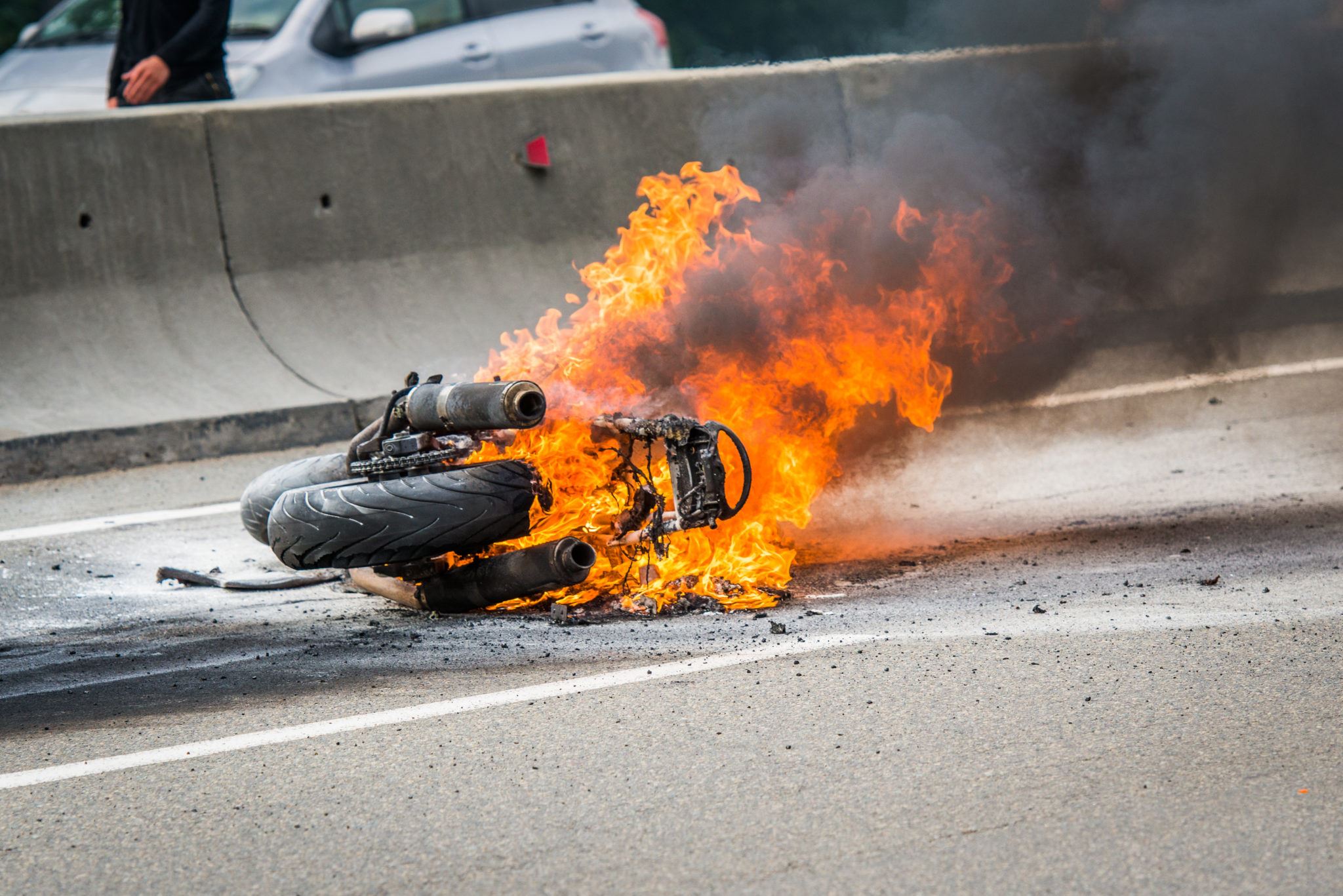 Determining Fault
Manufacturers or mechanics aren't always responsible for motorcycle crashes caused by mechanical failure. For example, if a driver lets their tires go bald and have a blowout on the freeway causing them to lose control and hit a motorcyclist, the driver, not the tire company, would be at fault.
DIY rider mechanics aren't immune from making maintenance mistakes either. If a motorcycle rider replaces their own brake fluid but something goes wrong and their brakes fail, they might be liable for their own injuries.
In the immediate aftermath of a motorcycle accident, liability isn't always obvious, especially when mechanical failures are involved. Your motorcycle accident lawyer will need to inspect the bike and accident photos, and may even need to consult with experts to determine what went wrong and who was responsible.
Why Riders Injured Due to Mechanical Failure May Have Access to Greater Damages
No motorcycle accident can ever be described as "good," but there is a silver lining for those caused by mechanical failures. If a manufacturer or business is responsible for your accident injuries, they will likely be covered by large commercial liability policies. That means their liability policy limits may be high enough to cover all of your medical costs, lost wages and pain and suffering.
In Virginia, Georgia and South Carolina the minimum amount of liability coverage that a driver is required to carry is $25,000 per person/$50,000 per accident coverage. North Carolina has slightly higher minimum liability coverage requirements at $30,000 per person/$60,000 per accident. West Virginia is slightly lower at just $20,000 per person/$40,000 per accident.
Motorcycle accident injuries are often severe, and the value of your claim can often exceed the amount of liability coverage available. This is why the motorcycle lawyers at Tom McGrath's Motorcycle Law Group encourage all riders to carry higher levels of uninsured and underinsured coverage. However, if an injury is caused due to a mechanical failure that is the fault of a manufacture or business, normal motor vehicle insurance limits do not apply.
If a manufacturer or mechanic is found to be at fault for your accident, your attorney may be able to go after their commercial general liability coverage. This coverage protects the business from liability that arises from failures of the goods or services they manufacturer or provide. These policies may have limits in the hundreds of thousands or even millions.
Find Out If Your Motorcycle Has Been Recalled
Motorcycles and motorcycle component recalls may happen more frequently than the average rider realizes. In 2020,BMW R 1250 GS motorcycles, specifically the brakes, were recalled due to premature wear and problems with brake calipers leaking fluid.
Other recentmotorcycle recalls include:
Aprilia and Moto Guzzi 2019 models
MV Augusta F4 for front brake master cylinder problems
8,000 Ducati motorcycles for the same master cylinder brake issue
Honda VT1300CX Fury motorcycles for missing fuel tank welds
Kawasaki Z125 Pros due to a faulty ECU fuel injection setting that was causing some bikes to stall
Visit the U.S. Consumer Product Safety Commission's website andsearch your motorcycle model or search for specific motorcycle components or safety gear to find out if they've been subject to recalls.
You can also visit theNHTSA's recall website and enter your motorcycle's VIN to find out if it needs to be repaired in relation to any outstanding recall notices.
What If a Pothole or Faulty Traffic Light Was to Blame?
Holding governments accountable for accidents they caused due to infrastructure failures isn't always easy. There may be unique rules that limit what you can claim in court. Such claims may also have special notice or filing rules that if missed may bar your ability to recover.
If you've suffered a serious injury or been involved in an accident caused by some kind of infrastructure or road maintenance failure, you should document the scene, see a doctor and call a motorcycle accident lawyer as soon as possible.
Get Help After a Motorcycle Accident
The motorcycle accident lawyers at theMotorcycle Law Group are committed to fighting for fellow riders who have been injured in all types of accidents. We'll work tirelessly to investigate your case and get to the bottom of what happen in your crash, whether it was caused by a negligent distracted driver, faulty brake pads or maintenance mistakes.
Call us at(855) 529-7433 to scheduleyour free case evaluation.