Are you looking for a nice ride surrounded by the beauty of mountains, nature, and history? If so, thenWest Virginia motorcycle roads are some of the best available. With numerous roads that wind through the Appalachian Mountains, West Virginia offers amazing rides full of thrills, curves, and relaxing stretches that will take your breath away. Read on to see what our favorite motorcycle roads in West Virginia are!
Use these links to jump to a specific section:
US 250
Total Drive Time: ~3 hours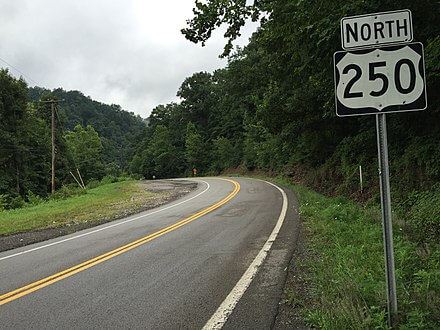 One of the top-rated rides in West Virginia, US 250 is a ride that keeps you on your toes with its rollercoaster-like mountain roads. This ride has great vistas of the Appalachian Mountains to keep you enthralled as you challenge the tight turns, curves, and long sweeps that you can find along this route. Due to all the variety, this road is great for experienced riders, but newer riders can also enjoy this if they are sure to be careful as they ride.
Getting to this ride is very simple. It has two endpoints, Staunton, VA and Elkin, WV, so you will go to one of those two points to start the ride. Then, just take US 250 to the other endpoint. Quick and easy to understand!
As for amenities, both Staunton and Elkins have quite a lot of places to go to eat and for entertainment. Along the ride, you will come across two national parks, Monongahela National Park and George Washington National Park. As most parks often have, these are packed with hiking, great vantage points, and areas to rest and enjoy food.
US 33 (Shenandoah Valley)
Total Drive Time: ~2.5 hours
US 33, which goes through the Shenandoah Valley, is a very popular ride throughout West Virginia as it offers access to good amenities, breathtaking views, and a lot of fun twists, turns, drops, and climbs all on the same ride. You'll be able to see amazing mountaintop views, wind through forests, and even cross over of a number of trout streams. This is one ride that you will want to savor as you ride along.
To get to this ride, you will head to Harrisonburg, VA and get onto US 33. From there, follow the road to Elkins, WV where this ride ends. The directions are very easy to understand and it shouldn't be too difficult to find.
This ride is a good option for riders of any level. There are many exciting portions that definitely give you thrills, but it is not overly dangerous. As long as riders are able to control their bike and have patience, they should be fine to attempt this ride.
Amenities-wise, there are many great campsites, climbing spots, and hiking trails that are not too far from this ride. There are even a few caverns that are just a few miles from this route that make for great stops.
George Washington National Forest Hills Rte. 39
Total Drive Time: ~2 hours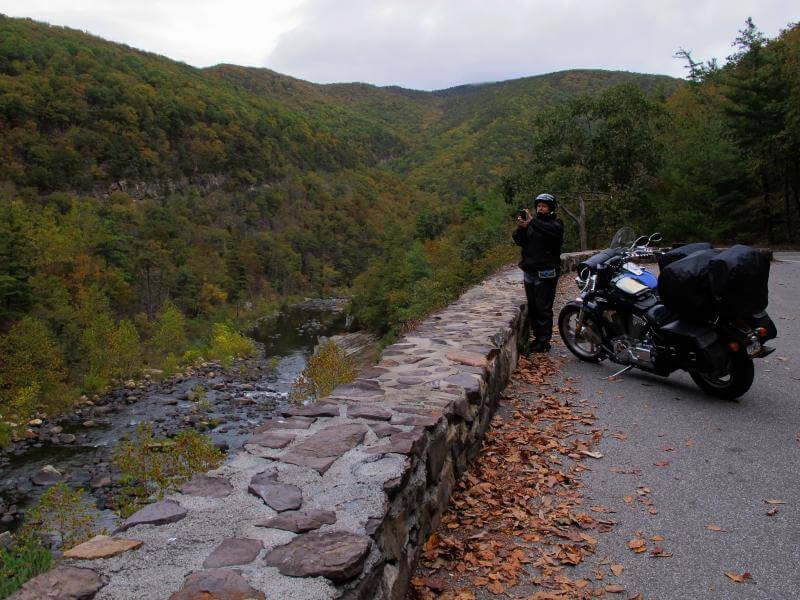 Hills that are abound with trees and rivers, the George Washington National Forest Hills Rte. 39 lush 72-mile route helps show the best of West Virginia's gorgeous natural scenery. A large part of this ride travels through the luscious George Washington National Forest, hence the name of this ride. Thanks to the amazing surroundings, this ride is most well-known for its memorable views — so be sure to bring a camera!
If you want to enjoy this ride, head on down to Lexington, VA to get onto Route 39, where this ride starts. Once you are on Route 39, simply take this road all the way to Marlinton, WV. It is easy to follow, so you should not have to worry about directions with this ride.
There are a few places to get off your bikes and refresh yourself along the way at the small towns spotted on this ride. There are some local gas stations and pubs to restock and freshen up at.
Head of the Dragon
Total Drive Time: ~4 hours
Looking for a thrilling weekend ride? Then take on the Head of the Dragon, a 91-mile loop in the southwest corner of West Virginia. This loop is right in the middle of the Appalachian Mountains, so there are endless mountain vistas that riders can enjoy. Be ready to see awe-inspiring green mountains and touching vintage mining towns that provide a glimpse into West Virginia's history.
To get to this ride, it is suggested that you start in Elkhorn, WV. From there, you 161 South through Skygusty, to Horsepen, and then to Bishop. There, get onto Rt. 16 and go northwest through Cucumber to Yukon. At Yukon, get onto Rt. 83 to Bradshaw. Next, switch to Rt. 80 and head north to Laeger where you will get onto US 52. Lastly, you will head east back to Elkhorn finishing the loop.
Along the loop, you can find a number of places to visit. In addition to the many restaurants, diners, and pubs, you can swing a Wildlife Management Area, such as the Panther Park Wildlife Management Area, or the World War I Memorial.
If you try out one of our best motorcycle roads in West Virginia recommendations, let us know what you thought of the ride!
The Motorcycle Law Group is Here for You
Whether you're just looking for anew adventure for your next motorcycle road trip, information about statutes and legislation, or legal representation, theFirm That Rides™ understands the unique situations that motorcyclists face every day. We also understand that negligence doesn't just affect motorcyclists. All of our motorcycle attorneys areskilled trial lawyers with the experience to help you or a loved one if you have been injured inVirginia,North Carolina,South Carolina,Georgia, orWest Virginia.
Whether you're in a car, truck, or amotorcycle accident,contact our attorneys today for assistance or call(855) 529-7433!